Two Darfur armed groups denounce announcement joining army against RSF, maintain neutrality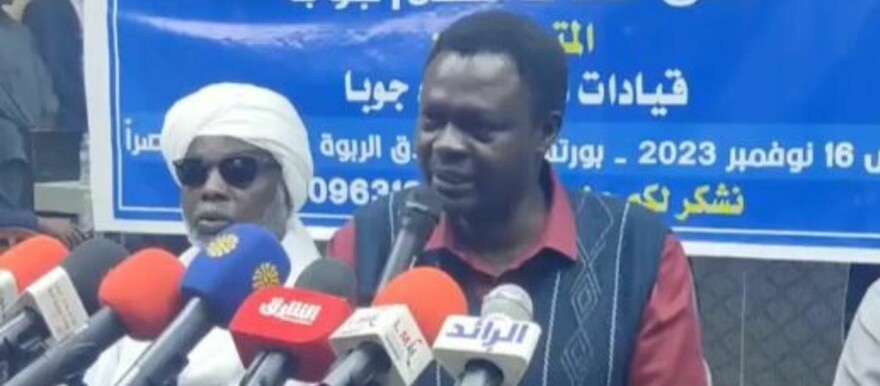 Minnawi who leads the Sudan Liberation Movement (SLM) and Ibrahim who heads the Justice and Equality Movement (JEM) during the press conference in Port Sudan last week. (File photo)
The head of the Sudan Liberation Movement- Transitional Council (SLM-TC), Al-Hadi Idriss, and the leader of the Sudan Liberation Forces (SLF), Al-Tahir Hajar, have rejected Thursday's announcement by Minni Minnawi and Jibril Ibrahim in Port Sudan that the Darfur armed groups will join the army in the fight against the Rapid Support Forces (RSF).
Idriss and Hajar maintained a neutral position in a statement, a copy of which was obtained by Radio Tamazuj.
Minnawi who leads the Sudan Liberation Movement (SLM) and Ibrahim who heads the Justice and Equality Movement (JEM) held a press conference on Thursday in Port Sudan in which they announced the participation of the Darfur armed groups in the war on the side of the Sudan Armed Forces (SAF).
Hajar and Idriss said that they followed the press conference with great astonishment because they were not present and did not delegate anyone to represent them and that the information was misleading public opinion.
"Supporting any party to the war is contrary to what we agreed upon and we adhere to our neutral position and seek to stop the war through peaceful means to restore the path of democratic and civil transformation," the duo's statement read in part.
They also declared their categorical refusal to drag the Darfur region into the civil war.
"At the same time, we call on neighboring countries, the African Union, IGAD, the United Nations, the Troika, the European Union, and the League of Arab States to make more efforts to accelerate the cessation of the war and help restore the path of democratic civil transformation," they said.