KAPOETA EAST -
21 Mar 2023
Thousands scramble for limited water in Kapoeta East County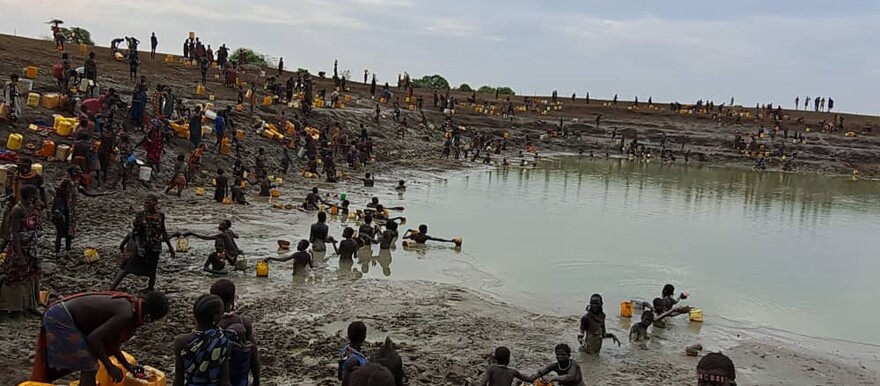 [Photo: Radio Tamazuj]
Authorities in Mogos Payam of Eastern Equatoria State's Kapoeta East County say thousands of communities facing drought in the region scramble for limited water sources in the payam.
Recently, officials reported that about 80 percent of the Jie community had abandoned their areas for Mogos and other neighboring payams in search of food and water. Efforts to drill boreholes in the Jie areas proved futile, officials said.
"Currently the main issue is that of water, especially for the Jie in Lopet village. The issue there is alarming and this is not the first time. Water shortages happen now and then. People in Lopet have deserted their area and have moved to Mogos," said Natabu Abram Likak, Jie Payam community leader.
"We want to thank our neighbors Mogos for their warm welcome to the people of Jie, where the community of Jie and host communities share one or two boreholes," he said.
Officials in Mogos say the presence of about 3,000 Jie community members there has put a strain on the limited water available, used by both host and neighboring communities.
Takan Karl Peter Lolib, a youth leader in Mogos says the displaced community is also in need of food and shelter.
"The people of Lopet are suffering because of water shortage and they have come to Mogos, now living with the Toposa because their area has no water completely. We cannot blame the government or anyone because the government has tried its best to drill water there but the landscape there has no water," he said. "Now about 3,000 people are in Mogos facing a food crisis, no shelter and others are still coming."
David Nayii, another youth leader, called on the government and humanitarian agencies to urgently intervene and rescue the people from hunger and drought.