Sudan to mediate as Kiir-Machar talks end with no breakthrough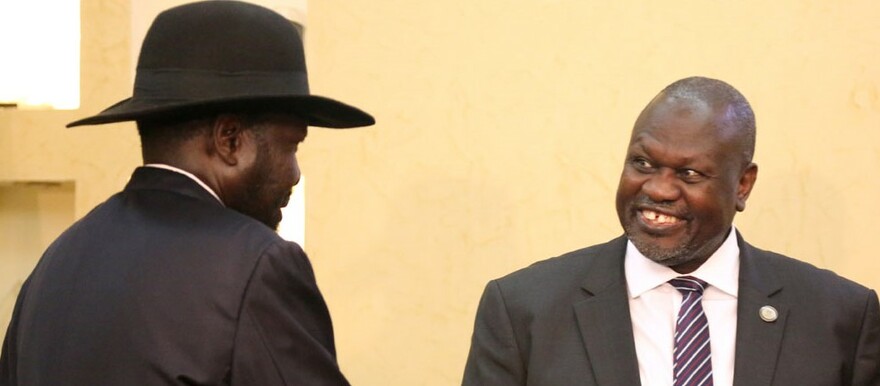 A Sudanese delegation is expected to visit Juba to meet with President Salva Kiir and First Vice President Riek Machar in a bid to break the deadlock over the recent dismissal of Defense Minister Angelina Teny, credible sources said.
 Kiir also swapped the ministries of defense and interior, taking defence to his political party, the Sudan People's Liberation Movement (SPLM) and the interior ministry to Machar's Sudan People's Liberation Movement in Opposition (SPLM-IO).
Machar's camp termed Kiir's orders "unilateral" and "a violation" of the 2018 peace deal and demanded that Madam Angelina be reinstated to her position.
The revitalized peace agreement gives parties the power to remove their representatives from the council of ministers and nominate replacements by notifying the president.
Kiir and Machar met on Friday morning but could not reach a breakthrough on the ministerial changes and agreed to meet again at a later date.
Multiple sources told Radio Tamazuj that a delegation led by a member of Sudan's Sovereign Council will visit South Sudan to meet President Kiir and First Vice President Riek Machar in a bid to break the stalemate over the dismissal of the defense minister and the swapping of the ministries.
 "There will be a meeting of the IGAD Council of Ministers in Khartoum soon. But a Sudanese delegation will first come to Juba before the IGAD meeting to mediate between the two principals," one of the sources said.
"The Sudanese delegation will come to Juba to mediate between the two leaders and discuss delays in the second command structure. They will also discuss the deployment of the unified forces," he added.
Sudan is one of the guarantors of the South Sudan peace agreement.
Implementation of the 2018 peace deal has been slow, and the opposing forces have frequently disagreed over how to share power.
In August last year, Kiir and Machar announced the extension of the transitional government's time in office for another two years, meaning general elections would be conducted in December 2024.