South Sudanese want leaders to act on Pope's message for peace and reconciliation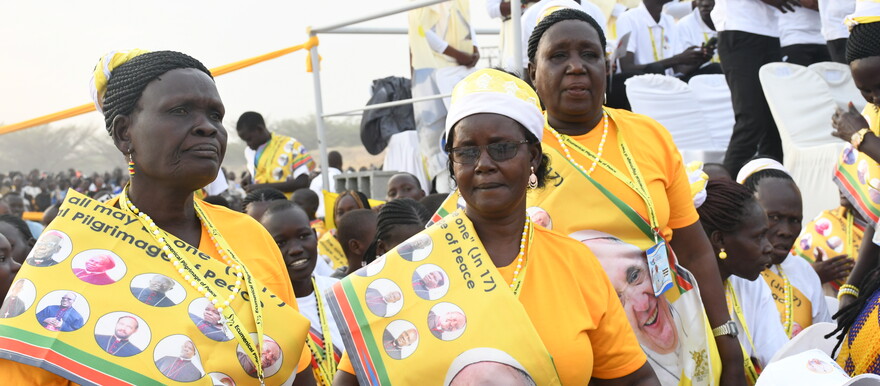 Several South Sudanese have called on the country's political leaders to heed and act on the message of peace and reconciliation of Pope Francis.
The Pope, Archbishop of Canterbury Justin Welby, and Dr. Iain Greenshields, Moderator of the General Assembly of the Church of Scotland made a "3-day peace pilgrimage" to the country on Friday.
Speaking to Radio Tamazuj after the Holy Mass in the capital, Juba on Sunday, citizens urged political leaders to act on the message of the three church leaders. 
 "I expect a lot of things to happen, our leaders have listened to their messages and we hope the economy will get stable and bring peace," Yar Manor Majok, a business woman said. 
Yar urged South Sudanese to embrace peace and stop killing each other.
"We want our people to stop killing themselves and move on, the message they left us is the message of progress, the message of going ahead."  
Elisabeth Mayak Thomas, 20, a volunteer who help in the preparation of Dr. John Garang Mausoleum in which the Pope held his Holy Mass on Sunday said she expected to love and reconciliation among the citizens.
"I expect peace, love, and reconciliation among youth and old people. We should love one another as Pope said because he is also a pilgrimage of peace," she said.
29-year-old Winnie Rufas urged political leaders to accept one another. 
"Our government needs to come together from their different political background with their different ideas to come up with better ways to lead our people," said Winnie.
The 86-year-old pontiff has made several visits to Africa since becoming pope in 2013, but this is his first visit to the Democratic Republic of Congo and South Sudan.
The "pilgrimage of peace" was the first time in Christian history that leaders of the Catholic, Anglican, and Reformed traditions conducted a joint foreign visit.
The religious leaders brought hope and encouraged leaders to find lasting peace in South Sudan, which has faced years of conflict.
 "I expect that the Holy Spirit will change the heart of our leaders in South Sudan and bring peace in the whole of South Sudan," said Imma Lasu-50-year-old.