President Kiir discusses bilateral, regional issues with Ethiopian PM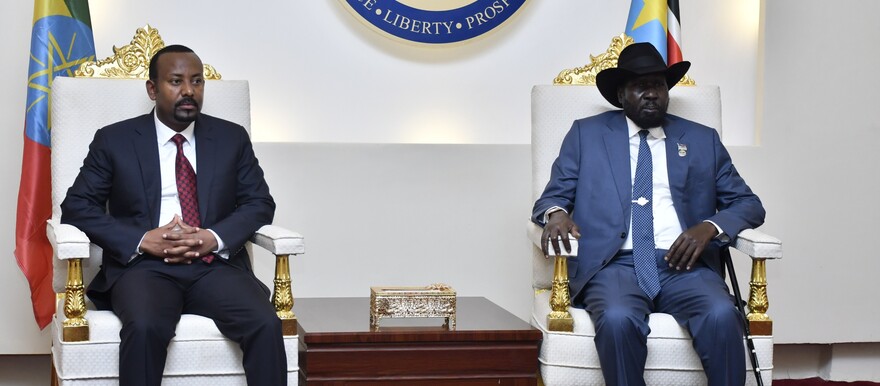 President Salva Kiir Mayardit and Ethiopian Prime Minister, Dr. Abiy Ahmed meet in Juba on 13 March 2023. [Photo: Radio Tamazuj]
South Sudan President Salva Kiir Mayardit and Ethiopian Prime Minister, Dr. Abiy Ahmed on Monday discussed bilateral and regional issues of common interest.
Ethiopian Prime Minister, Dr. Abiy arrived in Juba for an official one-day working visit Monday morning.
Upon his arrival at Juba International Airport, the Prime Minister was warmly welcomed by President Salva Kiir along with other senior government officials.
Deng Dau Deng, South Sudan's Acting Minister of Foreign Affairs and International Cooperation said the two leaders discussed the implementation of the 2018 peace deal.
"The two leaders headed the government secretarial when they held a meeting on bilateral matters with regional dimension including the implementation of the Revitalized peace agreement," Deng told reporters after meeting at J-1 on Monday.
"South Sudan values its historical ties with Ethiopia and appreciates Ethiopian key interest in restoring peace and stability," said Deng.
At the same time, Ambassador Misganu Arega, State Minister of the Ethiopian Ministry of Foreign Affairs reiterated his government's commitment to helping South Sudan achieve peace.
"Ethiopia pleads particular important to the peace and stability of South Sudan and stands committed to peaceful resolution of issues," said Arega.
He also hailed the government of South Sudan for the warm welcome of Prime Minister Dr. Abiy.
"An official and colorful welcoming ceremony was organized on behalf of the Prime Minister for which Ethiopia is grateful," said Amb. Arega.