Pope Francis arrives in South Sudan for 'ecumenical pilgrimage'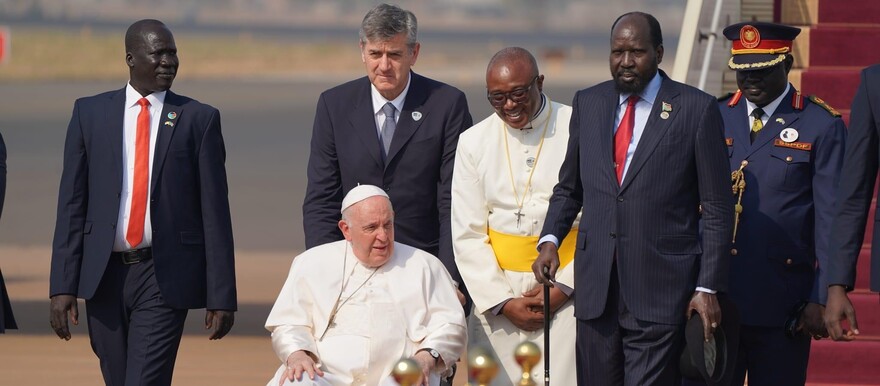 Pope Francis, President Salva Kiir Mayardit on February 3, 2023. [Photo: Office of the President]
Pope Francis has arrived in Juba, South Sudan, where he is embarking upon an ecumenical pilgrimage.
The Pope's flight landed at Juba International Airport at 2:45 PM local time.
The head of the Catholic Church departed from the Ndjili International Airport in the Democratic Republic of Congo's capital of Kinshasa at 10:39 AM local time, carrying the Holy Father and more than 70 journalists.
Pope Francis will spend three days in South Sudan on an ecumenical pilgrimage for peace with the Archbishop of Canterbury, and the Moderator of the General Assembly of the Church of Scotland.
Instability in the country, Covid-19, and ill-health led the Pope to delay his visit the nation. 
In April 2019, the Pope hosted a spiritual retreat in the Vatican for the political leaders and ecclesiastical authorities of South Sudan where he knelt at their feet and begged them to work for peace.
Today, the pontiff with the Archbishop and the Moderator-General will meet and greet the presidency and foreign diplomats and then retire to his Vatican residence. 
On February 4, the Pope will lead a prayer vigil with Archbishop of Canterbury Justin Welby, and the Moderator of the General Assembly of the Presbyterian Church of Scotland Rev Iain Greenshields.
The Pope will pray at Saint Theresa Cathedral in Kator, the Archbishop of Canterbury will go to pray at All Saints Cathedral and the Moderator-General will go to the Presbyterian Church in Jebel.
After the morning prayers, they will meet internally displaced persons at Freedom Hall in the afternoon before moving to Dr. John Garang Mausoleum for public prayers at 6 pm.
On the morning of 5 February, people will assemble at the John Garang Mausoleum for a final mass after which the Pope and his team will leave South Sudan.
At the completion of this Journey on Sunday, the Pope will have visited 60 countries since the start of his pontificate.
This visit marks the Holy Father's fifth Apostolic Journey to the African continent.