BY KOKA LO'LADO -
9 Aug 2022
Opinion | Kiir's regime confirms bloodthirsty, failed state status with summary execution of suspected rebels in Mayom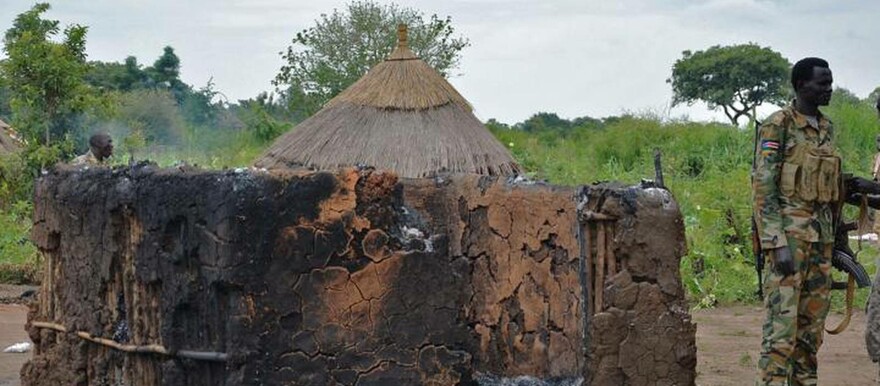 President Salva Kiir's regime has done it again-this time in a horrid and inhumane fashion-by summarily executing, by firing squad and immolation, suspected senior rebel officers who are thought to have planned the attack on Mayom and killed the commissioner there last month.
Chuol Gatluak Manime, the commissioner of Mayom County in Unity State, was killed by assailants who stormed his house in the wee hours of 22 July, Radio Tamazuj reported at the time. 
It is to be noted that the assassinated commissioner was an elder brother of Presidential Security Advisor Tut Gatluak Manime. At a prayer held for the deceased in Juba after the attack, Tut Gatluak was quoted as saying that he had forgiven the assailants if it will bring peace to Mayom County, Unity State, and South Sudan as a whole. It turns out he was just pacing himself and planning the ultimate revenge.
Fast-forward. Over the weekend, some media reported that operatives belonging to Sudan's Rapid Support Forces (RSF), working with elements from South Sudan's National Security Service (NSS), had on Saturday apprehended four senior officers of Gen. Stephen Buay Rolnyang's SSPM/A. They included Nyuon Garang Kuol, Pur Ruop Kuol, Gatluak Majiok Liey and Dhoal Barpuoh Tap.
By Sunday, the 'captured' rebels had been expeditiously handed over to the authorities in Unity State at a remote outpost known as Kaikang. 
Gen. Buay confirmed the arrest of his men and said they had gone to Sudan's Fula area as civilians to visit their families and procure supplies and that it was wrong that they were apprehended. He said it was against international law to hand them over to the South Sudan government and appealed to the UN and other human rights bodies to intervene because that would certainly mark their end. He was prophetic.  
On Monday morning, news started filtering in that the lot had been summarily executed with Governor Dr. Joseph Monytuil and other senior state government and military officials spectating. 
A couple of hours later, incontrovertible video evidence surfaced showing Nyuon Garang Kuol, Pur Ruop Kuol and Gatluak Majiok Liey, with hands tied behind their backs and sat together in a heap in a grassland, probably because they could not stand due to torture, being executed by a firing squad comprising an SSPDF section standing in an arc. 
The most gruesome and bloodcurdling death of the day yet was reserved for SSPDF deserter Gatluak Majiok Liey who was accused of collaborating with SSPM/A rebels and coordinating the attack on Mayom town which culminated in the death of Commissioner Choul Gatluak Manime. 
Majiok, his right hand shacked to his right leg by handcuffs and his left arm firmly tied to his left leg by two soldiers who are taunting him in the Nuer language while he casually smiles, laughs, and answers them back, perhaps knowing that his fate is sealed-is then sat in the middle of a decrepit and abandoned hut and set ablaze. His immolation was supposedly to avenge that of Commissioner Manime who burned to death in his house after his home was attacked in July. It was clearly revenge! 
The above is just to bring the reader up to speed and to paint a graphic picture of what transpired.
The question that begs however is why people, even rebels, who had been arrested, be summarily and gruesomely executed without due process even if they were involved in the attack on Mayom? What then is the difference between the government and ruthless bandits? 
Some have justified the summary executions as revenge for the slain commissioner and a lesson to others. 
Gen. Buay justified the killing of Commissioner Manime by saying he was a legitimate target who commanded a pro-government militia. The counterarguments will not take us anywhere, but a government should behave better by being seen to follow and uphold the law.
The social-cultural dynamics in Mayom County are complex and families and clans have for years been pitted against each other, feuding and warring and this has been amplified by the unending conflicts and wars.
Gen. Buay, after leaving Juba after his incarceration, trial, and dishonorable discharge from the army and eventual pardon, wrote a poignant missive in which he narrated his humiliation and what he referred to as wrongful accusation by NCP elements who are now Kiir's blue-eyed boys. One could clearly see a bitter man who had sacrificed his life to fight in the SPLA for the liberation of South Sudan. He was bound to strike back at his detractors. He eventually did by attacking and killing Tut Gatluak's brother. Whether he was justified is a matter of debate. 
The SSPDF leadership, and by extension Commander-in-Chief Kiir, did not however come out to respond to Gen. Buay's statement that he had been wrongfully accused and set up by his own people in Mayom County who had now found favour in the presidential palace. What seems to have even hurt the discharged General more was that Tut Gatluak and Co., not so long ago, were loyal to ousted Sudanese President Omar al-Bashir and his NCP and actively participated in superintending war against SPLA and a scorched earth policy upon the people in areas with oil in Unity State.
Clearly, it was a matter of time before Buay who felt he was unfairly shanghaied out of the army caused mayhem. Interestingly, those who knew Buay during the liberation struggle know he was disciplined and always had a stellar performance as a military operator and was a shrewd commander. Many also confess that during the CPA interim period and at independence when he concurrently commanded both the SPLA's Military Police and Commando Unit, there was a semblance of order and discipline in the SPLA.
This is the man Kiir let go in order to form new alliances with former NCP members from Khartoum, to the chagrin of many in the SPLM/SPLM.
Gen. Buay also commanded several Divisions of the army before he was disgracefully thrown out of the SSPDF and will definitely call on some of his trusted lieutenants to join him. This paints a grim picture because it means more fighting and translates into suffering for the innocent people of South Sudan.  
However, back to Kiir's regime's record on justice and accountability, it has been wanting at best, nonexistent most often, and known for shielding and protecting criminals/capital offenders. 
Known relatives of the president, his bodyguard and cronies have been known to repeatedly commit heinous crimes and get away with it, only to get emboldened and commit crimes with impunity.
President Kiir's brother–in–law, Gregory Vasili who is now the Deputy Director General at the NSS' General Security Bureau, once discharged a pistol in a courtroom in Juba and had been faulted in endless land grabbing cases. Senior military and police officers routinely outdo each other in grabbing peoples' land and houses. Kiir's elite bodyguards in 2016 rapped foreign aid workers and many known and notorious elements of the Tiger Unit have been known to wantonly rape, rob, and kill without being brought to book. The examples are endless and this seems to have emboldened others to follow suit. Can Kiir then deliver justice for the common South Sudanese or should he and his cronies be brought to book?
It has become the practice that Kiir's regime detains and holds people incommunicado, and kills others in detention while others are simply disappeared never to be heard from again. The very lucky few have come out of the nondescript and illegal detention facilities and they remain mute and distant about their ordeal due to depression from torture and other inhumane things done to them while illegally incarcerated. 
Can Kiir and his lot then talk about justice and accountability? Do they have moral authority?
There is already runaway and cyclic violence across the country mainly due to conflict and the lack of recourse to justice. The people have now taken the law into their hands. In places like Mayom where the communities have been polarized for ages, it is now bound to become cataclysmic. 
Chillingly, Kiir's nephew, one of the deputy mayors at Juba City Council, appeared on Monday in a video clip justifying the arrest, detention and shooting of some students and civilians peacefully protesting the rising cost of living and commodity prices in the country.
He said South Sudan does not have water cannons and teargas to disperse protestors and only had live bullets in stores to contain protestors and rioters.
Is this a sign of what is to come in the dubiously extended 24-month term of the transitional government?
I can bet that rebel groups, even new unheard ones, will feel justified & vindicated to launch new attacks because of the underhand extension of the current government's term in office.
The author, Koka Lo'Lado, is a journalist and can be reached via kokalolado@gmail.com
The views expressed in 'opinion' articles published by Radio Tamazuj are solely those of the writer. The veracity of any claims made is the responsibility of the author, not Radio Tamazuj.