Kiir to commission Juba-Terekeka road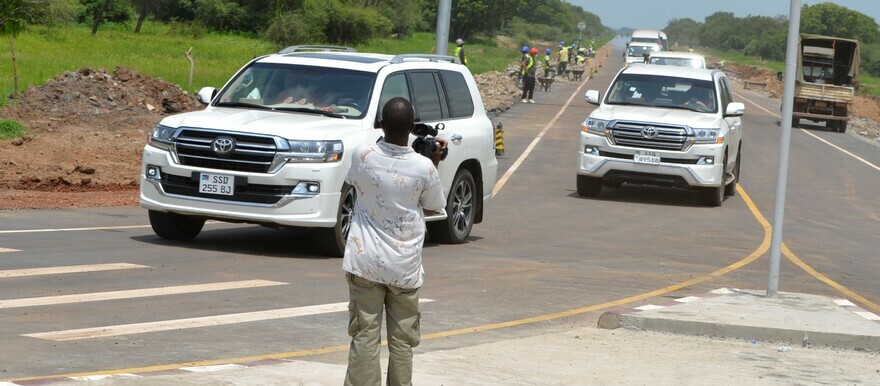 Phase one of the Juba-Terekeka road (Photo: Radio Tamazuj)
South Sudan's President Salva Kiir will officially launch the first phase of the Juba-Terekeka road, the government spokesperson announced.
Speaking to reporters in Juba on Friday after the cabinet meeting, Information Minister Michael Makuei Lueth said President Kiir will commission part one of the road from Juba to Terekeka County, which is now ready for use.
"This one is information, Juba-Terekeka road will be commissioned by the President on Monday, 12 December, and he will also launch phase two of the road from Terekeka to Yirol," Makuei added.
In 2019, Shandong Hi-Speed, a Chinese company, started constructing 392 kilometres of paved road linking the capital Juba to the Bahr al Ghazal region. The road construction from Juba, Terekeka, and Yirol to Rumbek was expected to be completed within 36 months.
The road construction started after President Kiir announced that he had allocated 30,000 barrels of crude oil per day to Chinese firms to build roads.
 South Sudan's economy is almost entirely dependent on the export of oil.
Kiir comments on roads
Speaking during the closing meeting of the SPLM's National Liberation Council in Juba earlier this week, Kiir said South Sudan should be connected with paved roads to improve the lives of citizens.
 "If the road reaches Bahr al Ghazal, part of it will reach Bentiu in Unity State," Kiir said. "After I launch Juba-Terekeka road, I will also proceed to Juba-Bor road to open this road to ease traffic. Now, someone from Bor can come to Juba in the morning for shopping and then returns in the evening."
The Juba-Bor-Malakal highway is being constructed by the Africa Resource Cooperation Company, a local construction company. The construction was launched in March 2020 and is expected to be completed in three to four years.