Kiir names defense minister despite opposition objections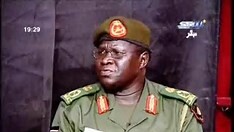 File photo: New minister of defense, Gen. Chol Thon Balok
South Sudan's President Salva Kiir on Wednesday appointed his new defense minister despite strong objections from the opposition party.
In a presidential decree read on state-run media, Kiir appointed Gen. Chol Thon Balok as the new minister of defense and veterans affairs. Gen. Chol Thon was serving as deputy defense minister before today's appointment.
On March 3, Kiir sacked defense minister Angelina Teny, a leading member of the opposition SPLM-IO led by First Vice President Riek Machar. Angelina is also Machar's wife.
The president also swapped the defense ministry set for Machar's party to his party and handed Machar the interior ministry, in a move that goes against the terms of the 2018 peace agreement.
According to the peace agreement, Machar's party is to select the country's defense minister and while Kiir appoints the interior minister.
The appointment of the new defense minister, a close ally of President Kiir, came nearly three weeks after a meeting between Kiir and Machar ended in Juba without a resolution on the disagreement over Kiir's firing of the defense minister.
Speaking to Radio Tamazuj shortly after Kiir's decree, Puok Both Baluang, director of information and acting press secretary for Machar, said the appointment of the new minister was made without consultations.
"All the meetings held and the consultations made in an attempt to resolve the disagreement have not been successful. The decision was made unilaterally. There was no consultation with us," Puok said.
When asked about the way forward after the appointment of the new defense minister, Puok said the SPLM-IO leadership will hold a meeting and decide on the next move.
"We blame the peace guarantors and the peace monitors for all these violations of the peace agreement. So the SPLM-IO Political Bureau will meet on the matter," he concluded.