Government to reconcile farmers and pastoralists in Magwi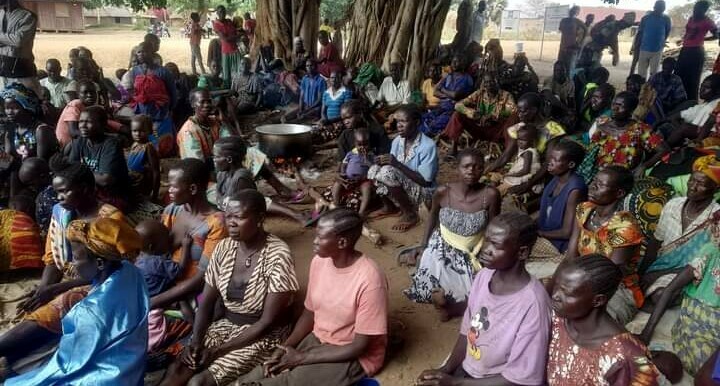 Internally displaced persons in Magwi County, E. Equatoria State. [Photo: Radio Tamazuj]
Eastern Equatoria State officials and Jonglei community leaders have agreed to a planned reconciliation conference to restore relations between the host communities and pastoralists in Magwi County.
The leaders met in the state headquarters, Torit County over the weekend.
In recent weeks, the pastoralists, host communities, and cattle raiders have engaged in violent conflicts that have led to the loss of lives, displacement of people, and destruction of property in Magwi county.
Eastern Equatoria State governor Louis Lobong Lojore explained the meeting's resolutions to Radio Tamazuj. 
"We agreed that the leaders talk to their people to take their cattle out of Magwi and they said they will do that. They also asked us to talk to raiders not to attack them on the way and take their cattle. They requested to be allowed to go in peace. We also said, that if there is a raid, they should not attack the communities, especially women and children there because they are not the ones who stole the cattle," Lobong said. 
He added, "The other agreement is that after these, we will do a reconciliation conference between the people of Magwi and the pastoralists. So that what has happened can be forgotten people live in peace."
The national information minister and government spokesperson Michael Makuei Lueth who led the delegation of Jonglei state leaders to the meeting told Radio Tamazuj the pastoralists have called for safe passage as they leave the region.
He underscored the importance of the meeting in restoring relations.
"We want peace and peaceful coexistence and people must live in peace and trust and they must live with each other. We are calling on the two communities to continue living together and not to create conflict among them. they should not allow any other side to come between them to separate them further," he said.
Both leaders said the conference will be convened when the cattle keepers leave the area. They also revealed that the national government is planning a comprehensive program to facilitate the return of cattle keepers to their areas of origin from the greater Equatoria region soon.