KAPOETA EAST -
2 Mar 2023
Drought and hunger drive the Jie out of their homes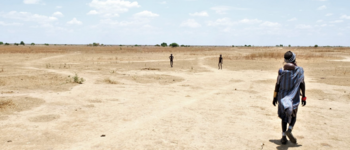 Authorities in Eastern Equatoria State, South Sudan, have confirmed that 80 percent of the Jie community in Kapoeta East County have abandoned their areas in search of food and water. 
Augustine Okuma, the head of the state Relief and Rehabilitation Commission, said the majority of residents have been displaced from the area since December 2022, to seek services in neighboring counties.
"A committee visited the area and informed us that there was a problem of water and hunger in Mogos, Lopet, and Kasengor in Kapoeta East and that was why people moved to places where they can get water and food," he said.
Okuma said only about 20 percent of the population including the elderly, children, and the vulnerable remained there.
He mentioned organizations such as the Islamic Relief Organization, tried to dig three boreholes in the area, but due to low water levels, they could not get water after several attempts. 
The RRC official denied reports of deaths due to starvation saying no deaths were captured by the assessment. 
Zachariah Ngolotiang Naburio, a member of the state parliament representing the SPLM-IO, said he was part of the team that conducted the assessment in the area together with the UN World Food Programme to verify the alarming reports of drought and famine. 
He revealed that the residents had fled to the Riwoto area in Kapoeta North and Mogos and pointed out that their condition was worsening daily due to the lack of rain in the area for the past three years. 
Ngolotiang urged the state and national governments to come to the aid of the Jie community who are suffering at this time.
Kapoeta East Commissioner Abdalla Angelo Lokeno confirmed the report.
"This is very true because that place has no water. I sent organizations to their side but the organizations and their machines are not able to get water for these people. We tried places between Jie and Mogos to dig for water but all in vain," he lamented.