SPLM SG condemned over alleged hate speech remarks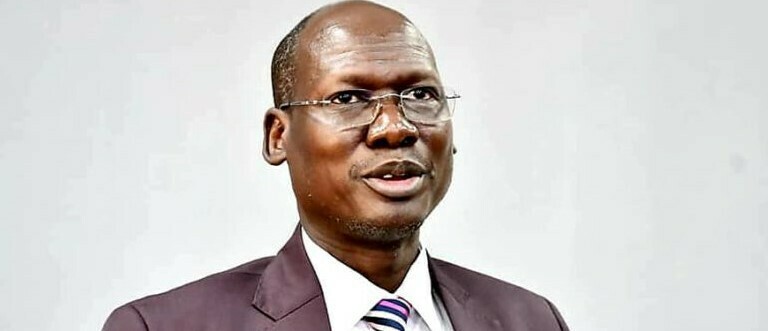 Photo: SPLM Secretary General Peter Lam Both
A section of South Sudanese has condemned the SPLM Party's Secretary General for the utterances he made recently in the capital Juba.
The reaction came after a viral video of Secretary General Peter Lam Both in which he said opposition leader Dr Riek Machar, a Nuer, has declared war against the Dinka.
Lam, also a Nuer, spoke at a function held at the SPLM House in Juba in January.
Ter Manyang Gatwech, the Executive Director of the Centre for Peace and Advocacy (CPA), which promotes civil society values, has criticised some leaders and urged them to avoid "hate speech" following Lam Both's comments at the Nuer community.
"We are deeply concerned about such a statement by a public figure that could cause hate speech and amount to crime according to the Cybercrimes and Computer Misuse Provisional Order, 2021," Ter said.
The activist urged public figures to be careful about the choice of their words when addressing the public.
"CPA proposes for a Hate Speech Bill to be tabled by the Parliament to combat hate speech by political leaders in the country," Ter said.
SPLM comments
The ruling Sudan People's Liberation Movement (SPLM) has denied reports that its secretary general promoted "hateful speech", saying the video that surfaced over the weekend was taken out of context.
Speaking at a press conference in Juba on Tuesday, Bol Makueng, the party's external affairs secretary, said: "Comrade Peter Lam is a victim of scenario.of say the truth and the truth shall set you free, he is just hitting on the fact that violence in this country has always been caused by the SPLM/IO in the person of Riek Machar, but he was addressing it when he said that Riek was telling people that his war was against the Dinka."
"That is what triggered all these, which is true because the soldiers who used to come back in all these conflicts used to come and say that we have been misled, we are told that we are fighting the Dinka, they say it over the media many times, and it is in the archives," Makueng said.
Meanwhile, Kuol Atem Bol, the SPLM's secretary for political affairs, organization, and mobilization, defended the party`s secretary general saying that the people who circulated the video are lobbyists working for the downfall of Lam Both from the position.
"Peter Lam is being fought by those who believe, especially tribalists because they have been surprised how Peter Lam got the secretary general position and why he did not follow Riek Machar. Those ones believe that any Nuer who does not follow Riek Machar is a traitor, and that is why they are campaigning against him," he concluded.