SPLM party organ approves dismissal of Machar, Pagan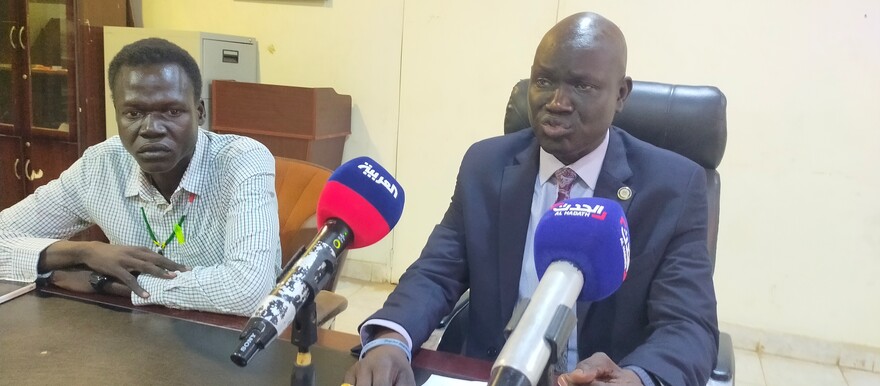 SPLM Acting Secretary for information, culture, and communication, Santo Malek Anei addressing the press in Juba on 30 November 2022. [Proto: Radio Tamazuj]
The Political Bureau of the Sudan People's Liberation Movement (SPLM) on Tuesday approved the dismissal of the party's former deputy chairman Dr. Riek Machar and former Secretary General Pagan Amum.
Last month, the Political Bureau held a meeting and resolved to terminate the membership of first vice president Riek Machar and Pagan Amum from the SPLM party.
Machar, who leads the opposition group SPLM-IO, was the first deputy chairman of the ruling SPLM party, while Pagan Amum, a prominent opposition figure in exile, was secretary general of the party.
Both were also members of the SPLM party's governing organs, the Political Bureau and the National Liberation Council (NLC).
The SPLM fractured into different groups after the civil war erupted in December 2013.
Addressing reporters in Juba on Wednesday following a meeting of the SPLM Political Bureau chaired by the party chairperson President Salva Kiir, the acting party secretary for information, culture, and communication, Santo Malek Anei, said the Political Bureau meeting on Tuesday approved the dismissal of Dr Riek Machar and Pagan Amum.
 "In that meeting, the agendas discussed were three. The meeting approved the replacement of members of the National Liberation Council who have died, those who defected to the other political parties and those who cannot deliver any service anymore," Santo said.
The SPLM official further said the members of the Political Bureau also resolved to increase the number of National Liberation Council members from 17 to 35.
"There will be new members who will come in. We will not give you the names now. Maybe after the National Liberation Council meeting, you will get the new names," he said.
According to Malek, the chairman of the SPLM Party, Salva Kiir Mayardit, was tasked by the Political Bureau in Tuesday's meeting to look for a new deputy chair of the party.  
The SPLM official said the National Liberation Council meeting, which was supposed to take place on Wednesday, had been postponed to Friday and Saturday as the party chairperson has prior engagements.
"The National Liberation Council meeting will confirm the resolutions of the Political Bureau meeting," he said.