SPLM-IO meets after stalemate over defense ministry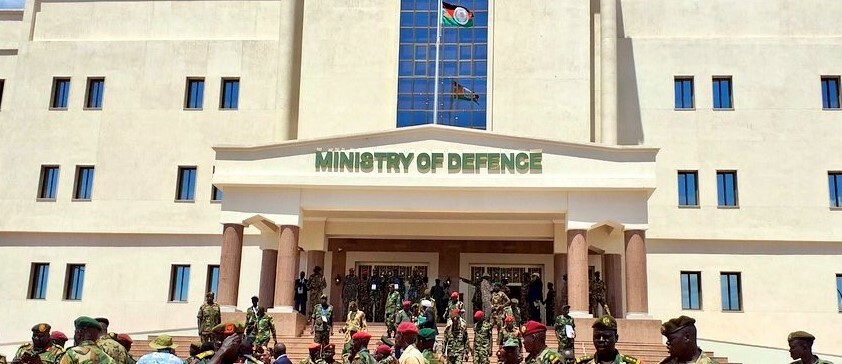 Officials of the former rebel Sudan People's Liberation Movement-In Opposition (SPLM-IO) met on Thursday and decided the next move after a stalemate over the firing of their own defense minister.
On Wednesday, President Salva Kiir appointed a member of his own party as defense minister, breaching a peace agreement in which the role should be selected by the SPLM-IO party of First Vice President and opposition leader, Riek Machar.
Defense Minister Angelina Teny, who is also Machar's wife, was fired, alongside the interior minister on 3 March, reigniting longstanding disputes over how the two leaders share power.
According to the decree read on state-run media late on Wednesday, Kiir replaced Teny with Chol Thon Balok, a loyal general and former deputy defense minister.
 "The meeting of the SPLM Political Bureau took place in Juba after the swearing of the new defense minister. The meeting discussed the violation of the peace agreement," a senior SPLM-IO official, who preferred anonymity, told Radio Tamazuj Friday.
 "The SPLM-IO reaffirmed its position on the unilateral decision by the president to remove the defense minister and swap the two ministries. It is a violation of the peace agreement. So the SPLM-IO calls for the reinstatement of the defense minister and revocation of the decision swapping the ministries," he said.
The opposition official pointed out that the stalemate over the defense ministry will likely undermine the implementation of the peace agreement.
 "We are now changing our strategy from just issuing statements to a diplomatic and political move. There are ongoing initiatives for interventions into the matter and find an amicable solution to the issue," he said.
The official affirmed that the SPLM-IO is committed to participating in free and fair polls after the end of the transitional period, saying they will not accept 'sham' elections.
"The security arrangements should be fully implemented; the refugees should be repatriated and legal frameworks for the elections need to be in place. Also, we need freedom for the political parties," he concluded.
South Sudan was meant to conclude a transition period with general elections in February 2023, but the coalition government failed to meet key provisions of the agreement, including drafting a constitution.
The parties to the agreement extended the transitional government's time in office for another two years, meaning elections would be held in December 2024.