INTERVIEW: 'Radio stations in South Sudan practice self-censorship'-Sama FM boss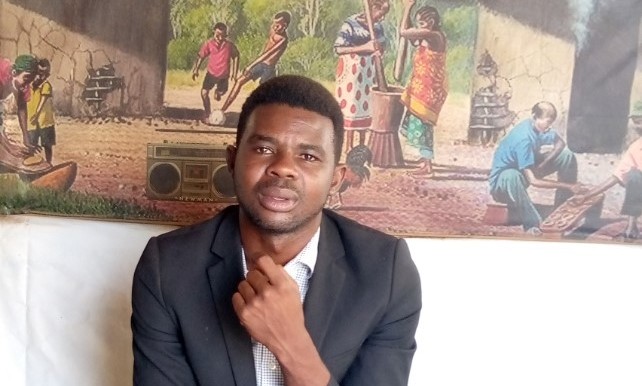 Today, February 13, is World Radio Day (WRD), celebrated across the globe under the three main sub-themes 'Evolution, Innovation, and Connection.
WRD was proclaimed in 2011 by the Member States of UNESCO, and adopted by the United Nations General Assembly in 2012 as an International Day.
In solidarity with the world, Radio Tamazuj looks at the media landscape and the role of Radio as a medium for celebrating diversity, information, and a tool for democratic discourse in South Sudan. We also examine its role in the implementation of the 2018 peace deal and the global pandemic, Coronavirus.
We caught up with Denis Morris, the station manager of Sama FM 99.3 community radio in Juba, and sounded him out on the role radio has played in disseminating information and the challenges broadcasters face in South Sudan.
Below are edited excerpts:
Q: Does radio play a role in the implementation of the peace agreement and raising awareness on Coronavirus in South Sudan?
A: For me what I see is that radio has a big role within our community and they need the radio to give them the needed information.
If we look at the peace implementation, not everyone knows what is written in the peace agreement that has been signed. Not everyone knows English or Arabic. But radio has played a significant role. Radios were able to translate or interpret the peace deal into different national languages. I have participated in the translation sessions of the peace deal into Zande, Latuko, Acholi, Mundari, and many more.
Without radio, many people were not able to have access to this information. We have a fixed program from 6 to 7 pm where we air messages from one of the languages. For example, if we play a message in the Dinka language today, the Dinka who do not know how to read and write will hear the message on the radio, and definitely, they will understand what is going on about the peace agreement. So if there was no radio, people would not know about the peace agreement.
Q: Let's now look at the role of radio in raising awareness amongst the people. Do you think radio has done enough in this regard?
A: I heard about the Coronavirus on the radio. After some time, we were called by the WHO and they taught us how we can raise awareness among the people in the community about the Coronavirus. All media outlets have a great role to play among the community to raise awareness.
Q: As the radio station manager do you think your listeners benefit from this or not?
A: If you are informing people, you see change in their behavior. That means they have understood the message correctly. But if you say everyone should wash their hands and no one is following these instructions that means this information has not been valued and no one has taken it seriously.
But from my experience since the beginning of the pandemic, I have seen some behavior changes in our communities in the way they greet each other, the way they discuss issues. In the early stages of the pandemic, the number was high until radio started the awareness, the positive cases dropped significantly. So this is the way we know that information that we are giving through the radio is helping people. But we still know that not everyone follows what is broadcasted on the radio. Some ignore this information.
Q: Looking at the press freedom situation in South Sudan, what are some of the challenges facing journalists in reporting and raising awareness among the people?
A: I want to highlight what you have mentioned in your question about press freedom. For the past two years or so we are realizing some improvement in press freedom. Journalists have a right now and they are talking. For the past three months, we have never heard about any incident of arrest or detention. This is because journalists themselves are now aware of what issues they can report about or not. This is the result of a lot of training awareness by the civil societies to journalists and organized forces. This is the reason that increased the level of press freedom. The media are now somehow enjoying their profession. And most journalists and media houses now know what topics that they can tackle or not.
Q: But despite this improvement, there are a lot of reports that journalists cannot report on some issues such as corruption, stealing, and so on.
A: Yeah, this is what I am coming to. We know that this freedom is not full. There are a lot of things that journalists are supposed to talk about. But journalists are still fearing to report on other issues. There are issues that we have the right to report about and if we report about them, we will be in trouble with someone. So we need civil society and other entities, including the government to open more space for press freedom.
Our main misunderstanding is with some organized forces. Some of them don't know what their role is. And if they don't know their role they will interfere in something that doesn't concern them. People who don't know their role should be told the boundaries of their role.
Q: Looking at issues such as reporting on corruption and other atrocities in the community, how does this affect the work of radio and journalists generally?
A: This is what is making the performance of our radio stations in South Sudan to be considered weak. If you look at our country, some radio stations don't report the news. They think if they report the news it will be a problem for them. So this is the problem. That is why many radio stations play songs from morning to evening and open phone call discussions and the day will be over. Can we compete at a high level with this practice? If you look at radio stations in Kenya and Uganda, the way journalists follow the news. They report on facts and no one hurts them. If a journalist experiences any threat, he can go to court and get justice done.
But here even if you go in court your right shall not be granted. This is the reason why many radio stations in South Sudan try to avoid the news. We only have three or four stations that report the news. We have nearly a hundred radio stations in South Sudan.
Q: Which are the radio stations that you see constantly reporting news and discussing issues that affect the communities in South Sudan?
A: If you look at Juba, there is only Eye radio. The rest of the stations are broadcasting only news with interest, just to cover up. Before they report the news, they will spend much time deciding whether to bring it or not, especially when it is a hard talk issue. Also the Voice of America (VOA). But the rest of the media houses we just reserve that. Let us do our programs.
Q: Including your radio station?
A: Yes, our radio doesn't have news. But we will begin broadcasting news soon.
Q: Why don't you have news? Are you afraid or there is another reason?
A: The first one is the lack of gadgets. We have very many journalists in South Sudan who can report good stories but they are facing a lot of challenges with equipment. We cannot do investigative journalism now because we don't have proper gadgets for that. Things such as modern audio recorders, computers, and cameras. If you don't have these gadgets in your media house, you will not develop.
The second thing is which media house will run your story? For example, if I produce a credible story that has never been told, the question is which media house is ready to air this story? If I bring it to Sama FM or any other radio, the managers will argue that if they broadcast this story their radio will be shut down. Therefore, many of us decided to leave stories.
Q: As we commemorate World Radio Day, what is your final message to our leaders, civil society, and South Sudanese communities at large?
A: For me, World Radio Day is supposed to be celebrated daily. We should see into it that every day is our day. So that the challenges that we face as journalists, issues such as lack of gadgets are put at the top of our agenda. As professional journalists, we are so passionate about the country. Our hope is this country should change for the better. We need to work hard and God can intervene and change the situation in our county. If the country is not realizing change, that means we are doing nothing.
The government should work to improve the situation of press freedom in our country. If people forget, they will say this radio is against us for example some people will say this radio belongs to so and so. This is not good. We need all radios to be the same.
The other message I want to share with our listeners is that many people refuse to speak to the radio or give any statement. Some will say I don't have information to share with the radio. But later on in the evening, you see the same person listening to the radio. But who will be giving the information if you refuse to speak?
I want to take this opportunity to encourage our listeners to regularly speak on the radio. They should not fear.
To our government, they should not oppress our freedom. Let's allow freedom for information. And with this, the information will help us contribute towards building our country South Sudan.