Kapoeta North County -
20 Jan 2022
Over 3000 starving Jie in need of humanitarian aid in Kapoeta North County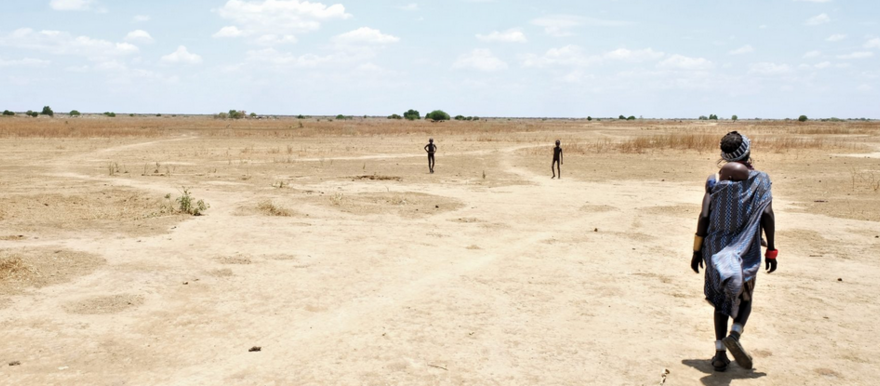 The Lopet area inhabited by the Jie ethnic group is facing drought. (Photo: AVSI)
At least 3,500 Jie have left their homes in Kapoeta East County, in Eastern Equatoria State due to drought-induced starvation and relocated to Kapoeta North County in search of food and clean drinking water, local authorities said.
The Jie community areas have also been hit by an acute shortage of water.
Kapoeta North County Commissioner Emmanuel Epone Lolimo confirmed the arrival of starving members of the Jie community in his area and said most of them were women and children. He commended the people of his county for voluntarily receiving and taking care of the Jie community members in their own homes.
"Since late last month we have been receiving the Jie community in our area and they are fleeing the area due to a water crisis and also hunger," Commissioner Lolimo said. "If you look back to last season, there was little rainfall in most parts of greater Kapoeta, and as such people did not cultivate. These people are affected severely that is why they came to Kapoeta North County for rescue."
He added: "Also, they are so much closer to us than Kapoeta East headquarters. I would like to thank the people of Kapoeta North County who voluntarily received these people and accommodate them in their homes and also feed them."
Commissioner Lolimo said the largest number of the Jie is in Wohobu Payam and appealed to humanitarian organizations to partner with the government to rescue the suffering population.
The Kapoeta East County commissioner, Abdallah Lokeno, confirmed the influx of his charges into the neighboring Kapoeta North County and attributes it to famine.
"This is true, the civilians of Jie from the areas of Kasengor and Lohitiala have all gone to Kapoeta North County," Commissioner Lokeno said. "You know there were no rains and that place is hungry now (sic). Even the cattle are sick because grass for grazing is very far."
He added that some cattle owners moved with their animals to Jonglei State territories in search of greener pastures and water.
Commissioner Lokeno said his county had very many hard-to-reach far flung areas and thanked his Kapoeta North County counterpart for warmly receiving his people.
He called on the state and national governments to intervene.