BY STEPHEN ARRNO -
16 Jun 2021
Opinion | Why the Rapid Support Forces as an independent force is a setback to Democratic Transition in Sudan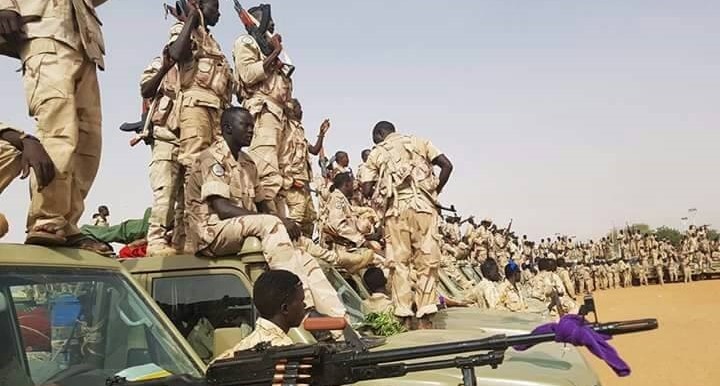 Arrival of the Rapid Support Forces (RSF) in the capital of North Darfur, El Fasher, on 12 October 2017 [Photo: Radio Dabanga]
The absurd position of the Rapid Support Forces (RSF) within Sudan's security architecture raises serious questions on the prospects of democratic transition. However, it should be noted that no matter how the officials justify the existence of these forces, reality brings counter-evidence. In this op-ed, I argue that despite the increased use of private security bodies domestically and internationally, the current status of Sudan RSF is harmful to democratic transition. This is due to the nature and structure of these forces. Their military creed based on counter-insurgency does not restrain them from extra-judicial killings and atrocities; meanwhile, their greed for easy resources made the leadership of these forces establish a sizeable financial empire outside the state control. However, before getting into the main body of this article, I shall briefly summarise views on the use of private military and security forces generally.
Within security studies, it is now accepted that private military and security companies fill security gaps, especially after the post-Cold War and the aftermath of 9/11. This is mainly due to the ability of these forces to handle situations that are costly to conventional armies and, as such, are not often taken up by conventional armies. That is how certain companies such as Blackwater were contracted in Iraq and Afghanistan, Sandline and Executive Outcome were contracted in Sierra Leone and Angola, respectively. Today the Central African Republic government has contracted Russian military contractors to beef up its security capability by deterring rebels and training its own military forces.
In his book 'The Real Politics of the Horn of Africa: Money, War and the Business of Power', Alex de Waal coined the term 'peacekeeping rentierism' to describe how Uganda and Burundi contribute peacekeeping troops in Somalia for financial gains. The same applies to the RSF and its role in the 'Decisive Storm' campaign in Yemen led by the Arab coalition funded by the United Arab Emirates and Saudi Arabia. The RSF is rewarded generously for its engagement. This includes its role in stemming migration via Sudan and Libya. Sudanese scholar Suliman Baldo had a famous work titled 'Border Control from Hell' in which he criticized the use of the RSF by European countries to stem migration to Europe. Domestically, the RSF was rewarded for their counter-insurgency efforts and controlled the gold-rich Jebel Aamer in return. It is only recently that the RSF leadership claimed to transfer ownership of these mines to the state.
It must be noted that the emergence of private security agencies is a disturbing development in security studies. The Pessimists consider them a significant threat to the state's control of violence and undermines the entire democratic process. Within this view, it is feared that private security and military forces, especially in places with a deficiency in governance and fragile institutions, encourage authoritarian regimes to use such forces to repress and undermine the democratic rule. An example of this effect is how former President Omer al Bashir requested Hemetti, in April 2019, to disband the sit-in protests that constituted a threat to his rule.
An optimistic view of private security and military forces considers such entities useful in tackling intractable situations where messy and conventional armies are unwilling to get involved. Former United Nations Special Representative to the Secretary-General in South Sudan (UNSRSG) David Shearer has written extensively on this emerging trend, including his book 'Private Armies and Military and Intervention' and an article titled 'Outsourcing War' in which he favorably argues for the use of private armies in intractable conflicts. This view falls within international interventionism that aim at preventing genocide and colossal violence within complex emergencies. However, the use of private forces for domestic use is peculiar to Sudan. It all started with drafting civilian forces in the civil war through Popular Defense Forces (PDF) and the Mujahedeen, who were drawn from foreign countries.
These para-military forces, especially the RSF, are conceptualized as part of a growing civilianization of conflict in Darfur. The crisis in Darfur that generated massive casualties among civilians is not possible without using such forces that do not adhere to International Humanitarian Law and other conventions. The civilianization of war could be loosely defined as the use of civilians as combatants and perpetrators of large-scale atrocities against fellow civilians. Therefore, the RSF is part of a civilianization process, starting with the Janjaweed and moving to the Border Guards before adopting Rapid Support Forces.
The main concern is how a post-revolution government would utilize such a force with a history of human rights atrocities and part of a counter-insurgency. Moreover, would these forces support or constrain democratic transition in Sudan. In engaging the central question, there are a number of considerations. First, the purpose of these forces that were assembled as part of counter-insurgency has no valid mandate to continue serving today, especially with ongoing efforts to end the conflict in Darfur and the entire Sudan.
Secondly, although it is claimed that the RSF is legitimately formed through a statute ratified by parliament, it should be noted that the legal order on which these forces were constituted is null and void after the overthrow of the regime that created it. Moreover, the parliament that instituted these forces was not representative of all Sudanese, and that explains how a responsible parliament can pass a bill that legitimizes atrocities in the name of counter-insurgency. If the RSF wishes to exist as an independent force, its statutory law should be subject to public scrutiny and approval. Finally, it should be noted that the mandate of the RSF is to fight a rebellion in Darfur and elsewhere and commit atrocities against specific communities considered sympathetic to the rebels. Does Sudan require a force with such a mandate today – this should be a question that the citizens of Sudan must answer in a plebiscite or through their representatives in parliament. It is not about the RSF to decide their status. A way to go is for the RSF leadership to accept that its role is of no use, and as such, it should seek amnesty for past atrocities in return for disbanding its ranks and file peacefully.
The last concern is about how a national entity would have two brothers and family members at the helm of its hierarchy. The RSF is more of a private family army. It is inexplicable to justify how two brothers are at the top of the force with other family members in total control of the RSF.
As there are concerns in Sudan's peace negotiations regarding the integration of the RSF and other forces into one national army, the issue is not about integration but more about an overhaul of the security sector. Lastly, the question of integration is not a matter of negotiation but a matter of reforming and charting a way for democratic transition. If Sudan is to bid farewell to dictatorship and colossal atrocities carried by those manipulating the means of violence, there is no other way but to accept that the monopoly of violence should be in the hands of the state under the control of civilian rule. Let me conclude by referring to Robert Bates's classical work 'When Things Fell Apart' in which he narrates how 'specialist in violence' are ever tempted to behave in a predatory manner if the rewards are not commensurate. In the process, he argues they end up creating political disorder. What is the fate of Sudan if the specialists in violence, who are more than nine in number, hijack the state and gain direct control of national resources using force to legitimate their loot? Wake up.
Stephen Arrno is a PhD Candidate studying International Relations at the United States International University – Africa and specializing in Conflict, Peace, and Security in Fragile States he is reachable through saarno@usiu.ac.ke .
The views expressed in 'opinion' articles published by Radio Tamazuj are solely those of the writer. The veracity of any claims made are the responsibility of the author, not Radio Tamazuj.