BY ALFRED GERI -
15 Mar 2021
Opinion | Traffic police doing little to contain city traffic jams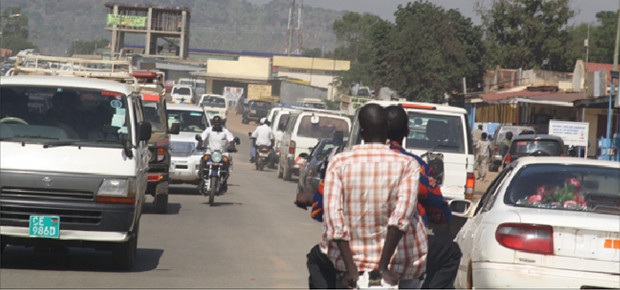 Have you ever tried to answer questions about a crossword puzzle? If you have ever done so, you will probably agree with me that crossword puzzles are generally not easy to answer. Going by this analogy, you would agree with me that it is not usually easy either for motorists to navigate their way through a traffic jam.
One of the traffic jams, which has become nearly common and in fact frustrating, is the one at Lou Specialist Clinic in Buaba, Gudele I. If you are a regular traveler along Gudele Road, especially in the rush evening hours and whenever it is raining, you will easily notice an irritating interlocking of cars all the way from Jur River Petroleum up to the Buaba roundabout, where the Hai Referendum – Rock City road intersects with Gudele Road. In fact, oftentimes, such a jam starts building up at St. Kizito, at the road junction leading to Mia Saba through Suk Libya in Munuki!
Instead of about ten minutes required to cover this road section, drivers often take as much as an hour or so to break free from the traffic jam. Motorists and passengers, returning from their daily work routines, sit hapless, unsure when to reach home. In the ensuing confusion, often characterized with drivers and boda-boda riders breaking the "rules of the game," criticisms of all sorts are thrown at traffic police and the government generally. The traffic police personnel are faulted for being inept at enforcing tough regulations while the government for not having done enough to develop the necessary road infrastructure.
Whether the criticisms are valid or not is a debate for another time. In the meantime, however, it is important to know what exactly the causes are for the seemingly endless traffic jams along Gudele Road, especially in the rush evening hours and during times of rain. Such a question, equally applicable to other roads in Juba, is crucially important for policymakers and traffic police personnel as well as to the general public. Our hope, based on the English maxim of "every cloud has a silver lining," is that sooner or later some durable solution would be found to the endemic problems of traffic jams along our city roads.
One very likely cause of traffic jams appears to be the motorists' utter ignorance of driving rules and observation of traffic signs. Along the main roads in Juba, it is common to see drivers moving along the inner road lane when they are actually supposed to use the side lane because they are either soon stopping off to pick some bread at a supermarket, dropping off passengers or turning off to move along the roads leading to their residences. This is enough cause for a jam, as the often brusque movement from the inner or middle road lane will seriously slow down the other cars that are "patiently" moving along their right paths.
Much as we may blame drivers for the messy situation on our roads, the traffic police have to step in by providing regular awareness about the need for safe and organized driving. Such sensitization campaigns, if regularly broadcast on television and radios as well as through training, can have far-reaching benefits such as saving time and lives on the roads. Traffic police personnel should move away from their traditional practice of waiting for an "offense" to be committed so that they fine the culprit heavily. The implication here is that instead of being reactive, traffic police personnel should be proactive in dealing with motorists. They should be able to foresee a problem instead of waiting for it to first happen. In this way, there will be order on our roads as drivers and boda-boda riders, as well as pedestrians, are enabled with knowledge and skills of observing good road usage. It should be noted that many motorists did not attend reputable driving schools in order to acquire professional driving techniques and ethics. They learned from friends and, hop, there they are!
Some drivers, visibly unable to hold back impatience, move out of their right lanes to drive along with the "wrong" ones, thus blocking cars moving to such destinations as Customs, Konyokonyo or Juba. All this happens in an atmosphere of "do as you wish," or "laissez-faire" if you like, as traffic police and security personnel desperately try to create an orderly flow of cars at the Buaba roundabout, near Lou Specialist Clinic. Their well-intentioned efforts are usually frustrated by drivers of public service vehicles (taxis) who park a few meters from the roundabout to either offload or load passengers. The situation is further compounded by roadside vendors and people buying boiled, fried or roasted foodstuffs from them.
Another important factor contributing to the emergence of traffic jams along the roads in Juba is the usually abrupt turns drivers make in the middle of the road. Such turnabouts in the middle of busy city roads usually result in traffic jams and unnecessary quarrels among motorists! Traffic police should be vigilant, ensuring such bad practices are heavily penalized. It should be made a mandatory practice that drivers make U-turn at roundabouts if they want to move back in an opposite direction. If such a driving "ethic" is regularly enforced and motorists made to appreciate its importance, car accidents would even be greatly minimized on the roads.
Much as the traffic police have tried to improve the flow of traffic along the roads leading to or out of Juba, they still have an uphill task to sensitize motorists and cyclists about good principles of driving. Let there be a TV or radio program during which traffic police personnel sensitize the public about road usage with a view to ending the quasi indefinite jams along our roads. The other alternative solution lies in fixing of all access street roads by Juba City Council. If all the street roads could be fixed soon, believe me, there would be less cases of traffic jams to worry about in Juba. I would like to think that the number of cars here, unlike in some countries in the region, is comparatively so small that a "traffic jam" wouldn't be a frequent vocabulary on our lips!
The author Alfred Geri is a veteran journalist and an educationalist. He's a commentator on topical social issues. He can be contacted via algeri2003@yahoo.com
The views expressed in 'opinion' articles published by Radio Tamazuj are solely those of the writer. The veracity of any claims made are the responsibility of the author, not Radio Tamazuj.