Newly-built main gate of parliament inaugurated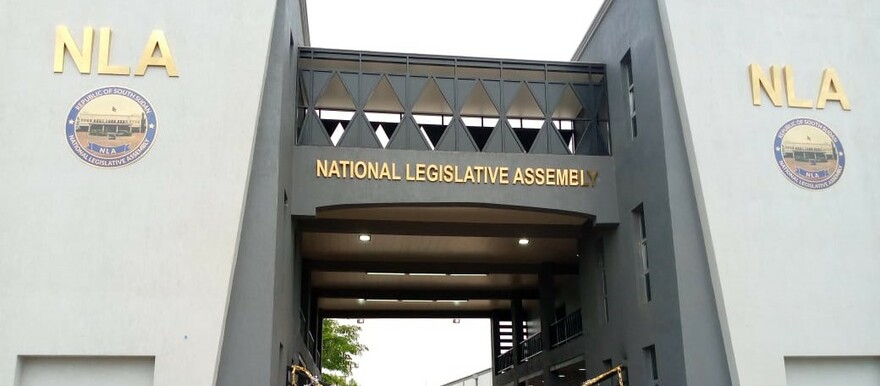 The newly-built main gate of the transitional national legislative assembly was today inaugurated by Speaker Jemma Nunu Kumba.
The renovation of the parliamentary building, which started in May 2019, costs about 5 million US dollars.
Speaking to reporters after the inauguration ceremony in Juba on Thursday, Parmena Awerial Aluong, Deputy Speaker for Administration and Finance said the new main gate will provide security for members of the parliament.
"We have come here to open the main gate of the Transitional National Legislative Assembly, it was being repaired all these times and we have found that there was no way unless we open it for the people to come in and also for the security of the assembly," he said.
Awerial pointed out that the renovation work at the Parliamentary building is nearly complete and will be inaugurated by President Salva Kiir Mayardit.
"This gate is now renovated and you have seen now how beautiful it is and next time after opening this one, the national parliament will be opened by the president," he said.
"This is a credit to the Right Honorable Speaker who tried hard to let this assembly be renovated by all means even though we lack money for renovation. We have tried our level best through the little thing we have to renovate the assembly," he added.
The deputy speaker noted that they have also inaugurated new office buildings to accommodate members of the various parliamentary committees.  
"We built other offices there to accommodate the members of the committees because the number of the committees has increased to 36 and the old building is not enough to accommodate this number. It was initially built to accommodate only 18 chairpersons of the committees," he said.
Meanwhile, the assembly clerk, Makuc Makuc Ngong, said the project implementation was delayed due to financial constraints.
"The renovation took a long time because of the situation of our country. We were unable to pay our contractors on time and that is why all the projects delayed, but with the coming of Rt. Hon. Speaker Jemma Nunu Kumba, and by the support of H.E the President, we paid some contraction obligations," Makuc said.
 Eng. Joseph Mahas, a representative of CKM Construction Company, which was hired to renovate the assembly, said the renovation of offices and the main gate is completed and the remaining work is progressing well.
"We get the chance to finalize the main gate and also the restaurant and the offices building but the opening is not now. We are working to finalize the entire project and it will be opened by H.E President Salva Kiir Mayardit," Joseph said.