Kiir, Machar agree to scrap NSS powers to arrest without a warrant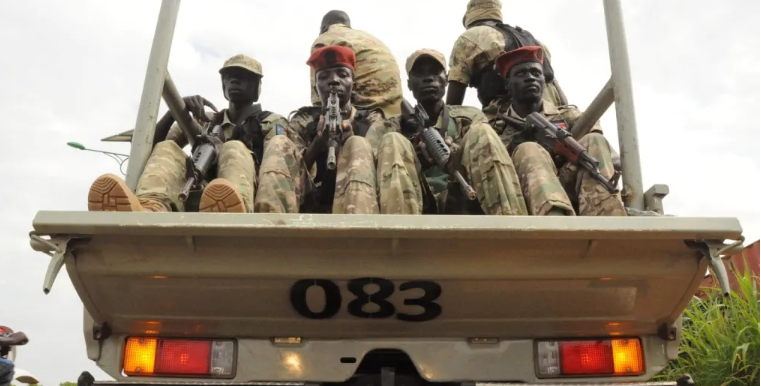 NSS soldiers on a patrol in Juba. (File photo)
President Salva Kiir Mayardit and his First Deputy President, Dr. Riek Machar have agreed to scrap the powers of the National Security Service to arrest without a warrant of arrest.
Speaking during a press conference held in Juba Tuesday, Cabinet Minister Dr. Martin Elia Lomuro disclosed that the two leaders have resolved the dispute over the powers given to the National Security.
"The national security law where there was disagreement on sections 54 and 55 about the arrest with or without a warrant has now been agreed by the president and first vice president and those will be scrapped," said Lomuro.
The National Security Service Act, 2014 which was amended in September 2019, allows security agents virtually unfettered authority to arrest and detain suspects, monitor communications, and search and seize property.
An arrest warrant is a document issued by a judge or magistrate that authorizes the police to take into custody someone accused of committing a crime.
The National Constitutional Amendment Committee (NCAC) first handed over the National Security Act to the justice minister in April 2019 and it was meant to ensure national security officers are held accountable for their actions and ensure that people arrested are not kept in custody incommunicado.
The Act was also meant to set up a complaints board made of an independent body.
It was not indicated that national security would arrest anybody without an arrest warrant but later, the draft was sent back to the committee for amendment.
The National Security Service, and particularly the Internal Security Bureau (ISB), has severally been faulted by citizens, rights bodies, and the clergy, among others, of kidnap, arbitrary arrests, abductions, torture, forced disappearances, sodomy as a method of torture, summary executions, etc at its headquarters infamously known as the Blue House in Juba and other non-gazetted detention facilities across the country.