Investigation: Education ministry 'frustrated' multi-million dollar project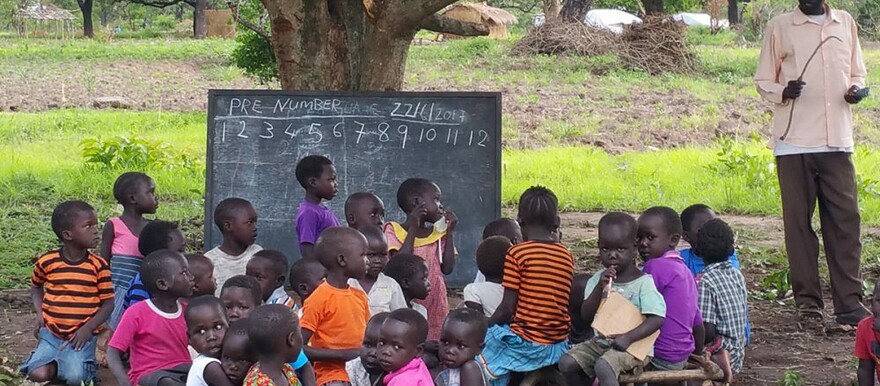 Pupils attending a lesson under a tree in South Sudan. [Photo: Anglican Aid]
Top officials in South Sudan's government scrambled and jostled over a $55 million USAID project grounding a grand plan for building schools, according to investigations carried out by Radio Tamazuj.
The officials said to be angling for the schools to be built in their preferred territories failed to agree and erected barriers for the US-funded project to take off. 
A five-year conflict in South Sudan that killed almost 400,000 people and displaced millions has left 2.2 million children and adolescents displaced and without access to education, according to UNESCO's Global Initiative on Out-of-School Children.
Sources that spoke to Radio Tamazuj say that the United States Agency for International Development (USAID) had resolved to terminate the multi-million education infrastructure project after senior officials at the Ministry of General Education and Instruction disagreed over where temporary learning spaces and schools would be built.
"The ministry was fighting over where the schools would be built until USAID pulled out from the project before it started. The contractor was in place and had hired its staff and set up its office in Juba to implement the project," a source with close knowledge of the project said.
When contacted, Erica Rousenfell, Education Director at USAID South Sudan, confirmed the ending of the project, saying, "Yes, the Education for Peace, Recovery, and Resilience (EPRR) project ended. EPRR was a USD$55 million USAID-funded education project designed to expand access to learning opportunities for South Sudanese students in a safe and protective learning environment while reinforcing resilience efforts and recovery trends for children and youth who are most affected by conflict."
The world's premier international development agency further said it terminated the project in July 2021 because "it was not fully aligned with the priorities of the Ministry of General Education and Instruction."
"USAID consulted with the Ministry of Education during the project design process, followed by USAID signing a contract in August 2020 with FHI360, the implementing partner for the EPRR project," Erica Rousenfell said. "At the conclusion of the project, FHI360's international project staff departed the country."
According to the USAID official, it had not yet been determined how many temporary learning spaces and schools would be built, but the plan was to support 400,000 South Sudanese students.
On its website, FHI360, the implementing partner for the EPRR project, said the project planned to ensure that learning structures were safe, equitable and comfortable for students and teachers and meet with community needs.
General Education Ministry officials did not respond to repeated requests for comment.
The frustration of the $55 million education project by the Ministry of General Education – which relies heavily on donor aid to run public schools – raises the question of whether equitable education for children is a government priority. This also contradicts the General Education Strategic Plan, 2017-2022, which aims to achieve four important priorities: to ensure equitable access to general education; to improve the quality of general education; to enhance the management capacity of senior staff of the national ministry, state ministries, the county education department and affiliated institutions.
Lack of access to schools
In Eastern Equatoria State, for example, many schoolchildren complain of long distances to access schools in most parts of the state. Some pupils could walk for one hour daily to attend classes, and sometimes don't go to school as they get discouraged by the long distance to get to school.
Jidden Debee, a primary school pupil, residing in the Enyif area, said: "I am studying at Torit West, I am 18 years old, and I am from the Enyif residential area. From the Enyif area up to school, it takes me about an hour. So, the challenges we face are that there are floods sometimes, and young children cannot move if there is a lot of water. For big people like me, we remove our clothes, then we cross the river to the other side, but young children cannot manage during exams," he narrated.
Elizabeth Abau, a resident of the Addis Ababa area in Torit, complains that the distance from their home to school makes learning difficult as she misses some lessons.
"Movement from home to school at Torit West takes more than 30 minutes. Sometimes we find teachers have already given the lessons; that's why some of us fail," she said.
Mr. Loboi Clement, the Director of Education in Torit County, admits that schools are not enough, especially in remote areas, and that there is a need for urgent intervention from the government and its development partners.
"It is true that the schools are not enough. You know, the Ministry of Education has the plan to open schools in places that are lacking schools because we have few secondary schools in Torit County," Clement concluded.
Anyone wanting to comment on this investigative report or send further information should contact Radio Tamazuj here. contact@radiotamazuj.org  or via Twitter @RadioTamazuj