'I will not let you down,' Kiir tells supporters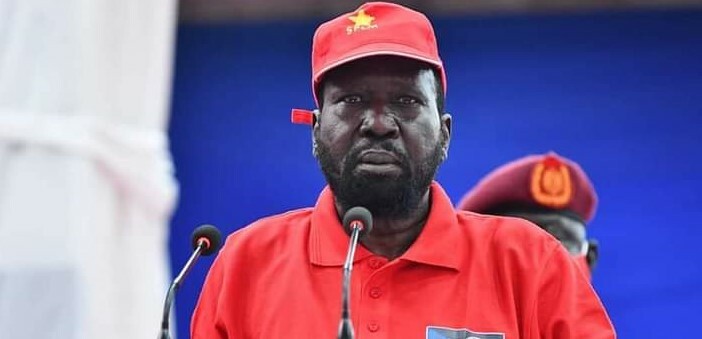 Photo: SPLM Party leader Salva Kiir
South Sudan President Salva Kiir Mayardit and the chairperson of the ruling Sudan People's Liberation Movement (SPLM) while closing the four-day National Liberation (NLC) meeting in Juba vowed not to disappoint his supporters.
Kiir made the remarks after the NLC endorsed him as the country's flag bearer for the coming elections as well as party chairman.
"I accept your nomination and I'm humbled and honored by your decision to nominate me for these two important tasks that to be the only sole candidate in the forthcoming convention and also the flag bearer for the SPLM party in the general election. Thank you very much," Kiir told his party officials.
"I hope I will not fail you. But I have not failed you before. I believe we will fight together the battles that are coming. And we have witnessed some of the battles. One of the battles was said by the speaker that I should not contest the next coming elections and that I should be isolated by the SPLM," Kiir added.
The president also directed governors and chief administrators who are mostly SPLM chairpersons in their states to ensure there is peace in their areas. 
"There are people who want to take other people's properties. And this is not good. I want you the governors after the liberation council meeting, I want you to go and concentrate on your people in the grassroots," he said. 
Meanwhile, SPLM's second deputy chairperson, Daniel Awet Akot, told the leaders to ensure they offer services to civilians who supported them during the liberation war. 
"We fought twenty-one years. There was no food. Food was only from these people and we were not paying them. We need to pay them now because we were not paying them for 21 years and these years of semi-independence. So I appeal to the persons holding leadership that this is the time to pay our people back," Akot told the SPLM leadership. 
For his part, Kuol Manyang Juuk, the party's third deputy chairperson urged the party leaders to safeguard the party's vision and be united.
"The vision of the nation is not the responsibility of the chairman alone. It is our responsibility all of us. We need to safeguard our movement; we need to safeguard our country," he said. "For us to succeed and implement these resolutions, we need to be one. It is the responsibility of all of us to be one and mobilize the rest of our population."
President Salva Kiir during the meeting also confirmed the members of the National Liberation Council and Political Bureau.
The NLC meeting started last Friday and was aimed at restructuring the historical party, which fractured into different groups after the civil war erupted in December 2013.