Ex-Jonglei governor dies in Nairobi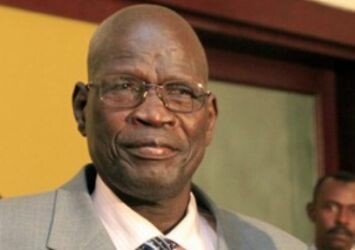 The Late General John Kong Nyuon [File Photo]
The former governor of Jonglei State, General John Kong Nyuon, has passed away at the Nairobi Hospital in Kenya.
A family member told Radio Tamazuj today that the former governor died last evening while undergoing treatment. 
"General John Kong Nyuon died on Monday in Nairobi Hospital. He had cancer and was receiving treatment. He also had spinal issues in his back," he said. "He was brought on 17th December and died on Monday at 9 PM."
The late served as South Sudan's defense minister before he was appointed Jonglei State caretaker governor. 
Reacting to the news, the South Sudanese Ambassador to Ethiopia, James Pitia Morgan, also confirmed to Radio Tamazuj and said the country has lost one of its fiercest patriots.  
In a public statement, Morgan said: "General Nyuon, as we all know, is one of the sons of our nation, who has a great record of achievements. He stands out as a nationalist and dedicated his entire life to South Sudan. General Nyuon broke all barriers of tribalism, he refused narrow-minded politics of ethnicities and distinguished himself as a true son of South Sudan."
"The country and nation of South Sudan has once again been robbed of its dedicated, loyal, and committed sons! May the God Almighty rest the precious soul of Kuardit, Kong Nyuondit in his everlasting peace, Amen."
Plans for his final sendoff are yet to be communicated.